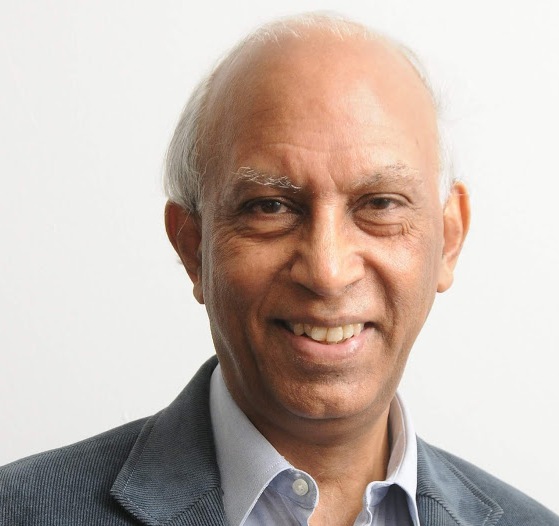 Book Review : Words, Words and Words
(Dr Ishtiaq Ahmed)
Words, Words and Words
by Dr. Khalid Sohail and Sain Sucha,
Joint Production of
Sollentuna, Sweden: Vudya Kitaban Förlag
Toronto, Canada: Green Zone Publishing, 2017
ISBN: 978-91-86620-42-4
Dr Khalid Sohail and Sain Sucha are two noted names on the global Pakistani literary landscape. They combine three quite distinct roles in their engagement with the public. They are poets, short-story writers and keen debaters of contemporary issues. Both have published books in Urdu and English and in the case of Sain Sucha also in Swedish.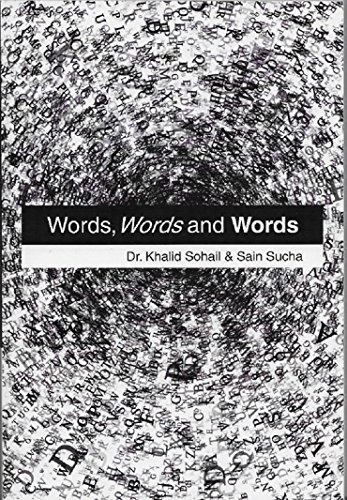 Both are natural scientists who have ventured into the spheres of sociology and philosophy. Dr Khalid Sohail is a practising psychiatrist, while Sain Sucha runs a small publishing firm. Dr Sohail's parents moved from Amritsar to Lahore in 1947, while Sain Sucha hails from Mozang, Lahore. Like thousands of other educated Pakistanis, they moved to the West – Sohail to Canada and Sain Sucha to the UK and later Sweden.
Words, Words and Words is their joint English-language collaboration. The book is divided into three sections: the first is on poetry; the second on short-stories; and the third contains their essays. The very title of the book is indicative of the significance and power they associate with words.
Indeed, as far as we know, it is only human beings who have developed skills to use words which become part of languages. Without words, there would be no history, no literature, no science, no philosophy. In fact, there would be no civilization.
From among Khalid Sohail's poems my eye fell on, Unfinished Novel. I quote some verses:
Each human being
Is an unfinished novel
That starts at birth
And is left unfinished at death……
The irony is
We can't rehearse our roles
Or re-write our scripts.
Sain Sucha won my heart with this poem:
In the Hall of Mirrors
Every child is born innocent
With a clean sheath in the head
There is no feeling of hate or fear
For any
Caste, colour, race or religion
Only a natural love and affection
For the woman who gave the birth
No child is born evil!
It is after birth
That indoctrination starts
Adults feeding their own ideas of
Love and hate
Likes and dislikes
Pros and cons
Profits and losses
The short stories which the authors proffered capture some very interesting situations as one would expect from authors with their roots in two cultures – Pakistani – Canadian and Pakistani – Swedish and their exposure to the global culture where seemingly incompatibles meet, clash but then peculiar combinations are formed.
Khalid Sohail's short story, Bigamy, is a case in point. A Pakistani-Canadian Saif decides to go back to Pakistan because his brother has died suddenly and he feels duty bound to help his family. That means marrying his sister-in-law. However, Saif is married to Susan in Canada. She feels betrayed and curses him. She decides to go to Pakistan and confront Saif. In the discussion which followed he explained that he married her also in a similar situation: she was married to an alcoholic and had small son to take care of. For a year she was seeing him secretly before she divorced her husband: so, in one sense she too lived in bigamy.
Susan began to understand Saif's predicament. She met Saif's uncle's first wife Razia, who could not bear children so the uncle married another woman without divorcing Razia, an arrangement she accepted because otherwise she would be without any support.
Please see this also: Lyrical Odes Aankh bhar Hairat: Book Review by Naeem Baig
For Susan, such situations began to make sense, but what convinced her most to reconcile to bigamy peculiar circumstances was the story of Nooran, Razia's servant. Nooran was an extraordinarily beautiful woman when young. She belonged to a mountain tribe in which brides were bought. She fetched Rs. 30,000 whereas the rate at that time was Rs. 10,000 a normal young woman. However, that was too big a sum.
So, two men pooled Rs. 15,000 each and married her. She would spend one week with one husband and the next week with the other. Such customs were accepted by her tribe.
From among Sain Sucha's short stories the one that left a deep impression on me is, Photo Finish. Peter, a Swedish photographer who specializes in covering armed conflicts began his career from Vietnam. Over the years he photographed other horrid wars such as the one in Cambodia, Bangladesh, Angola, Palestine, Iraq and Bosnia. Each such conflict had profoundly shocked him and yet he could not let go the itch to cover more.
This time it was Iraq again. Peter held in great contempt evil dictators who persecuted their own people as much as those wanted to wage a war of destruction on Iraq in the name of peace. But he had to go because payment bills needed to be paid.
The taxi arrives to fetch him to the airport. His little daughter Tindra comes running with swimming trunks while his wife Sandra looks on. Peter knows he is going to a place where there is no chance of swimming in the water; however, blood will be flowing like rivers. The journey towards the airport begins. Peter is suddenly reminded of the Vietnam war and that picture he took of a little girl running followed by her mother amid raining napalm bombs dropped by American aircraft. Seconds after that both were blown up.
Peter wonders what were the mother and daughter called: perhaps Sandra and Tindra. He imagines Sandra and Tindra running in front of him; Tindra holding his swimming trunks. He goes to the police station asking for them but they can't help him. He has no photograph of theirs. Suddenly he sees them again with a tank poised to come after them.
Suddenly he is jolted back into the real world. He tells the taxi driver to drive back he has left some important papers at home. Sandra wonders what has happened. He tells her to give him the photo he took of her and Tindra last Mid Summer Day. Sandra is surprised but Peter insists he wants to take their picture with him.
The cruelty of war and the vulnerability of human beings are very ably portrayed by Sain Sucha in this short story.
Both Khalid Sohail are known for taking bold, unconventional and non-conformist positions in their articles on contentious issues.
I have selected Sohail's essay, Human Psyche… Soul or Mind, to present in this review. We all know that the human body is real and palpable, but is there a soul which completes the body?
The author points out that in the Judaeo-Christian and Islamic tradition a belief in the soul exists. In the Hindu-Buddhist tradition too the soul survives physical death, but it returns in a cycle of reincarnations to purify itself until it is cleansed of all sin and temptation and joins the Supreme Spirit, God.
He then sets forth a third model dealing with the physical and the mental. On this view body and mind are one and do not exist as separate entities. This view has been advanced by Charles Darwin, Sigmund Freud, Karl Marx, Jean Paul Sartre and others. As a result, the importance of life has been given far greater importance rather than what happens after death. Such an attitude has helped develop powerful arguments for making life on earth as fulfilling, safe and healthy as possible.
Sain Sucha's essay, Why Illiteracy Continues to Prevail in Pakistan, is a well-argued brief in favour of learning mother tongues and several tongues simultaneously.
He explains that besides the essential function of communication which all languages perform they also contain expressions, images and vocabulary which reflects the natural environment in which a language evolves. Equally, languages reflect historical experience and culture. Consequently, people can learn and express themselves best in a language in which they have been born and grown.
Proceedings thus, he argues that one of the reasons why illiteracy abounds in Pakistan is that instead of Punjabis first learning to read or write in their mother tongue, they are made to learn Urdu, English, Arabic and so on.
He correctly points out that children can learn several languages and that should be encouraged, but not by ignoring those languages which constitute the historical continuity in their social lives; thus regional languages such as Punjabi, Sindhi, Pushto and Balochi should be the main language of instruction in schools, but other languages can also be taught simultaneously or in successive phases as the child grows up.
He has had a good look at the theory of language, grammar and syntax and the essay is interesting for both specialists and the wider concerned public.
Both authors are to be congratulated for writing their book – Words, Words and Words.