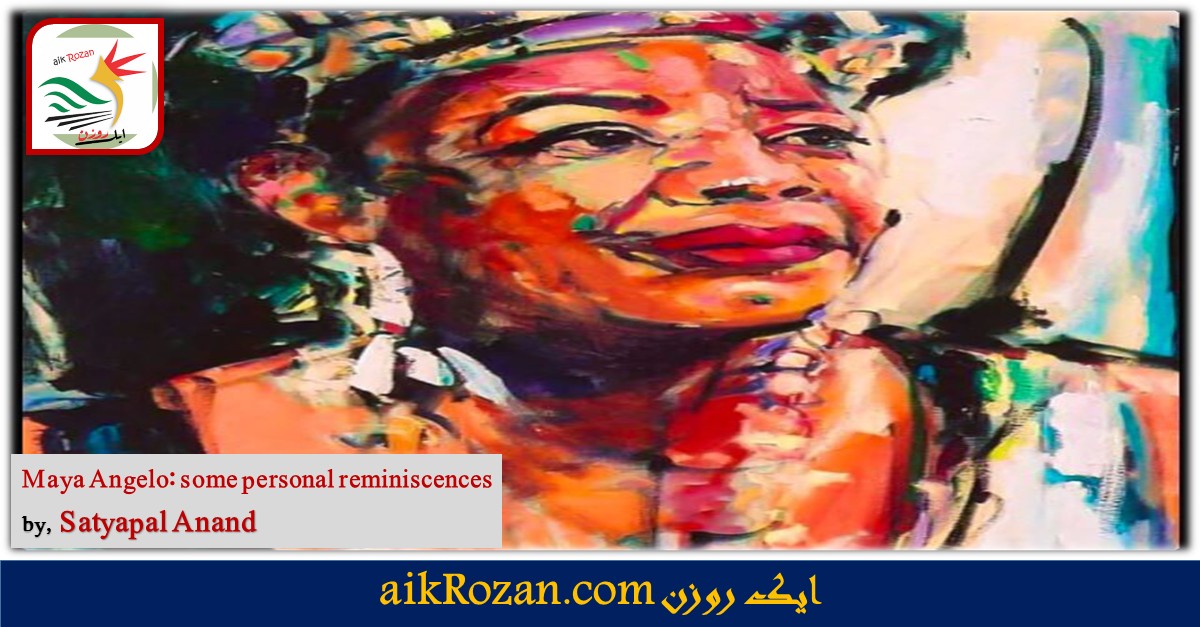 Maya Angelo : some personal reminiscences
by, Satyapal Anand
In Southeastern University, Washington D.C., back in 1986, I met a young Afro-Asian teacher who had a not-very-uncommon name, Maya. I told her that Maya was a common name for Hindu girls in India – and – that my mother's sister had this name also. What the word Maya meant in Sanskrit was a conundrum for her. So I opened the magic box and told her that among other connotations and denotations, this word meant illusion and the visible word was always referred to as Maya. "Oh, yes," she said, "now that you tell me, I remember that my poet and singer aunty, who gave me her name at my christening had also told me about its meaning in Hindu mythology."
This is how I got my first introduction to Maya Angelou, through her niece, Maya Gordon, twenty years her junior and a University teacher. She promised to introduce me to her as a fellow poet from India who wrote in four languages, English being one of them – almost like his second mother tongue.
The face-to-face introduction came soon after. A poetry collection of mine, titled Figures of Fantasy, had been published from New York a few years back. I got an invitation to be present at the annual convention of American booksellers in Washington, D.C. the next year and it was my good fortune that Maya Angelou was to speak and sing as she was one of the senior most featured writers of the time and never missed the convention.
A day before the convention, my young colleague took me to meet her aunty where she was staying – a mid-sized, economy-rated hotel in the town. She shook hands with me and then gave me a warm hug. "So you write in four languages, three of India and one of England….Have you read any of my poems?"
I said I had and that I had included two of her poems in my curriculum in Comparative Literature at the senior level. I spoke but little and then I was taken aback when she asked me to sing one of my poems in Urdu.
"Sing?" I asked her, "I can recite a poem verbatim, but I am no singer, Maya ji."
She was rather happy about my using the postfix ji with her name but still insisted that I try to sing a poem. Well, I did use my rusty trannum in presenting a poem and she liked it.
Then she herself offered, "Let me try my voice…" and she mimicked one of my lines in Urdu in her mellifluous voice. "You have a deep liquid voice, unlike any I have ever heard," I said, "but not well enough for Urdu ghazal singing. We in India have ghazal singers who excel in their soft, velvety voice, both men and women.
"Do they sing their own poetry?" Indeed, I was taken aback.
"Yes and No," I said. "Most of these singers are professional play-back ones, but….well, there are some poets, who recite in tarannum, that is intone or vocalize in tune … but others just read out in poetry sessions."
                ******
Maya was one year my senior, but when one reaches one's sixties, age doesn't matter. What matters is what you make of your inner age, the felt age, to use an adage from Elliot. I started reading her poetry in the right earnest after that. Sometimes I phoned her and she was candid enough to pick up the phone and talk to me.
It was a relationship that went ahead in fits and starts for there was hardly anything common between us. Her poetry was altogether different from what I wrote in Urdu, or for that matter, in English, and she was also aware of it. She wrote like she spoke, I wrote like I do not speak at all. Outward and inward, may be these two words can sum up the difference between us.
Earlier that year, she had the formidable duty of writing and reading a poem for President Bill Clinton's inauguration. She was  only the second poet to have the honor, following Robert Frost's appearance for President John F. Kennedy in 1960. If hers was not one of the greatest of poems, it certainly amounted to a grand moment, was my comment to her niece. I added, "Well, if I had been asked by the President of India to write and recite a poem for his inaugural session, I will not be able to do it. I am not that kind of a poet."
"You may write me down in history/ With your bitter, twisted lies," reads a line from one of her most popular poems, "And Still I Rise." "You may trod me in the very dirt/ But still, like dust, I'll rise."
Well, this is the kind of poetry that was in its zenith during the Progressive Writers' Movement in Urdu. I didn't write that kind of poetry then. How could I appreciate it now? But, here was a "black" poet, a glowing symbol of down-trodden people, slaves of yesteryears, and her poetry appealed to their heart more than it did to their intellect…
A native of St. Louis, a child of Arkansas and California, a self-invented and scrappy adventurer in life and, eventually, literature, Angelou spoke directly to the hearts of millions of readers around the globe. In telling her own story in poetry and over the course of a series of memoirs, beginning with "I Know Why the Caged Bird Sings" in 1970, she reflected her readers' wounds and bolstered their dreams.
I met her only once after that when I went to Kansas City to meet an ailing friend. She had, by that time, joined Hallmark in Kansas City, which teamed with her on a line of cards and other products and engaged her in movie projects. It was a five-minute handshake, a warm hug and a few formal questions and equally formal answers – and it left me with a sense of emptiness. So warm a poet in her poetry, so cold in her personal relations? I asked myself. But was she really cold in her personal relations.
Well, her niece agreed with me on that issue. "You see," she said, "Aunty Maya has the artist's erratic mode of behavior. She can be generous, kind, dry with a rasping voice or bubbling with sweetness. It all depends on time and occasion." I wasn't much of a friend of Maya Angelou but she did remind me many a women poets in the world who succeeded against a male-dominated or a racially disadvantaged society.
"Even though most critics argue that autobiographies are not works of literature, Angelou's literary voice was revered for her poetic command and her commitment to civil rights. She lived through the horrors of racism of the southern America, suffered sexual abuse, remained homeless, had to work as a prostitute and a madam for survival and yet developed a spirit to sing Calypso songs. The six-feet tall, warm and spirited Angelou, never allowed the odds against her imposed by a massive, powerful society to diminish her soul…" wrote a columnist. Well another time and another day, I might look at her work in the real context of American poetry. Where does she stand? Nowhere in the tradition of American poets, would my answer be. Is she going to leave a tradition of her own? Is she a poet's poet? Well, it is time that is going to tell us, but if there are any indications of 'future time' now, the answer would again be negative. No, she has not nurtured any progeny. There are no poets in America today who could be called 'The Maya Angelou tribe'.
* * *